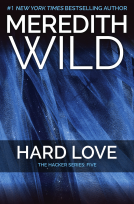 Determined to overcome a difficult past, Erica Hathaway learns early on how to make it on her own. Days after her college graduation she finds herself face to face with a panel of investors who will make or break her fledgling startup. The only thing she didn't prepare for was going weak in the knees over an arrogant and gorgeous investor who's seemingly determined to derail her presentation.
Despite Blake Landon's controlling ways, the young and wealthy hacker finally won the trust of the woman he loves. Internet entrepreneur Erica Hathaway broke down the walls that kept her from opening her heart and her business to Blake. Ready to start this new chapter in her life, Erica is determined not to let anything come between them, even if that means giving Blake back some of the control he craves in and out of the bedroom. But when demons from her past threaten their future, Erica makes a decision that could change their lives forever.
Software mogul Blake Landon has met his match in headstrong Erica Hathaway. While his controlling nature and her independent spirit continue to battle, Blake has no intention of letting her out of his life again. Erica has given Blake her trust and her love, determined that they will conquer any challenges together. But when he demands more and tests the boundaries of her commitment, she is forced to face the dark desires he's kept hidden. As their bonds grow tighter, their enemies close in. With Erica's start-up in danger, Blake's frustration grows as he tries to protect her from those who would ruin her only to get to him. Can their relationship survive when Blake's enemies cross the line and threaten more than her livelihood?
Blake Landon is a man who has everything-wealth, good looks, and the love of Erica Hathaway. The power couple has been through hell and back, and when life has torn them apart, somehow they have always found their way back to each other, more in love and stronger than ever. On the verge of making the ultimate commitment, Erica uncovers an unsettling chapter of Blake's history. As she makes peace with her own past and the family who left her behind, she presses Blake to tear down the last walls between them. Determined to know the man he once was, she opens a door to a world beyond her wildest imagination-a world that has her questioning the limits of her own desires. As danger lurks and dark secrets come to light, will the past destroy their promise of forever?
With Blake's freedom at stake and their future in peril, Erica will stop at nothing to clear his name. But when Blake defies the authorities and refuses to seek the truth, their world gradually begins to crumble. Will he let his past win? Or can Erica convince him that their life together is worth fighting for-now more than ever...